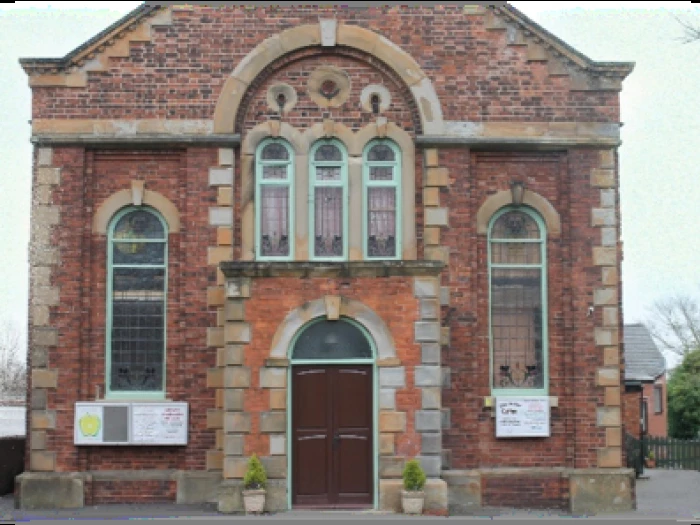 Welcome
Welcome to Clowne Methodist Church, part of the Derbyshire North East Circuit.
Details of our Easter services at Clowne, and elsewhere around the Circuit, can be found on our dedicated page  here.
The Methodist Church in Clowne was built in 1877 in the old centre of the village. It is situated on North Road, opposite Recreation Close which leads to the village Community Centre, Library, Health Centre and Villa Park Recreation ground.
The Minister at Clowne is Revd Mark Carrick.
Worship
We have services on a Sunday and on a Thursday.
Regular Sunday afternoon services are held each week at 3pm
Additional Family Services are held on the first Sunday of the month at 10:45am
Thursday Fellowship – a time of prayer and fellowship – is held every Thursday morning at 10.30am
Worship is mainly traditional, although alternative styles are also used. Services aim to be meaningful for everyone, with hymns old and new, prayers in different forms, and readings from many versions of the Bible.
The church has a small congregation of adults and a Sunday Club for children. Despite its small size, the congregation has a wide vision, to seek God's help, to work together, to be faithful and loyal to Him, aiming to be a spiritual light in the area.
Accessibility
The building is fully equipped to meet disability legislation, with sound and loop system for the hard-of-hearing, large-print hymn books available for the partially sighted, accessible toilet facilities, and ramped access to all areas of the ground floor.
Working together
The church is a member of the Clowne Union of Churches, which represents the four local Christian churches and meets together to demonstrate commitment to Christ amongst the village community. Members of the congregation particularly look forward to joint events during Christmas, Easter and on Remembrance Sunday.
Young People at Clowne Methodist Church
Under normal circumstances, there are thriving Youth Clubs for the under 11s and the 11+ age groups, with around 35 members on the registers. Most of the children are not those of Church members, so these links are valued as an important point of contact with the wider community.
Junior Club (5 – 11-year olds) Meets on Fridays from 6.15p.m. until 7.30p.m. and is a time of craft work, games, fun and making friends. The club is full at the moment, but to register your child's name on the waiting list please send a request to: junior_club@clowne-methodist.org.uk
Youth Club (11+) Meets on Friday evenings from 7:45pm to play video games, table tennis, and pool. Around 20 young people meet at the Club and there is a waiting list for anyone who would like to join. For more details e-mail: mailto: youth_club@clowne-methodist.org.uk
Sunday Club (all ages) Meet each Sunday in the schoolroom from 10.45 until 11.45am for an informal time of worship, crafts and games. Refreshments are provided and there is time to chat. On the first Sunday of each month, families are invited to come along and share in café style all-age worship with drinks available throughout, craft and other messy-church style activities, modern songs and a message from the leader.