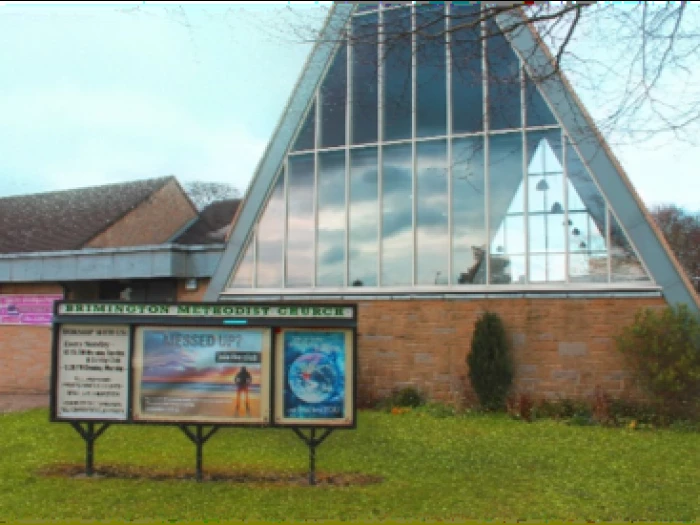 Welcome
A very warm welcome to Brimington Methodist Church.
The Church was opened in 1967 and is situated on The Green in the heart of the village. The building's distinctive triangular shape, depicting hands joined in prayer, is a landmark and fitting for a Church which puts prayer at the centre of Christian life.
The Church offers a friendly welcome to a wide range of people from the Brimington area and as well as being a worshipping community offers social support and care, including involvement in the Brimington Food Bank, run by the Trussell Trust.
Worship at Brimington
Over recent months, during the coronavirus pandemic, much has changed,and it has not been possible to continue with many of the Church's activities. However, online worship, which began during the period of building closure, has continued and is developing.In view of the national lockdown, it is not possible to hold Sunday services in the Church building, but a Sunday morning services is live streamed on YouTube.Go to the Worship Online pages to find information on accessing worship online.
Fellowship Groups
There are several weekly Fellowship and Bible Study groups which normally meet on Wednesdays at the Church. Sadly, these have now had to be suspended, but times are listed below for when resumption is possible:
Wednesday morning Fellowship at 10.30 am.
Wednesday afternoon Fellowship at 2.00 pm.
Wednesday evening Fellowship at 7.30 pm.

Children and Young People
Restarting physical gatherings for children and young people is not yet possible and the Church is currently reflecting and praying as it considers how work with young people might continue.
Men's group
'Men's Work', Bolsover and Staveley Methodist Men, has continued online with a virtual Men's Breakfast and future online meetings will be advertised.
Community users
Various community groups use the Church as a base for their activities but are not meeting at present, although the Little Characters Nursery and the Before and After School Club continue to use the building.
Keeping in touch
Through the difficult time of the pandemic, The Church continues to connect members and friends by sending them information either by email or by post.