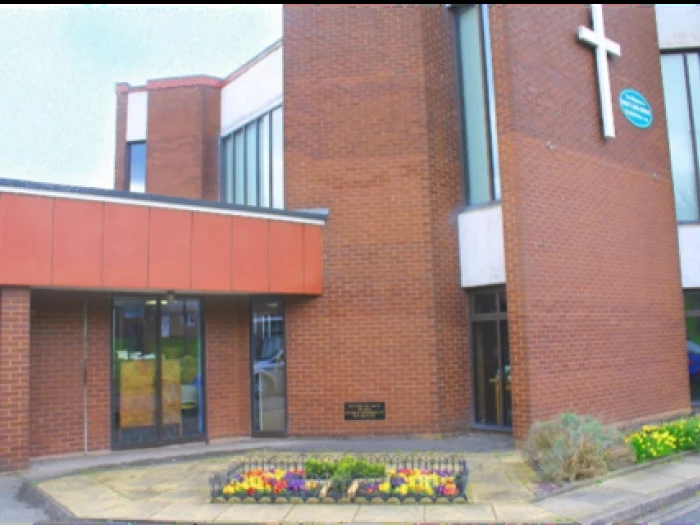 A very warm welcome to Staveley Methodist Church.
The present Staveley Methodist Church was fully opened in 1976, replacing the old Trinity Church
which was subject to a compulsory purchase order. It serves the town of Staveley, part of Chesterfield Borough, and the surrounding areas where there had been a number of other Methodist Churches in the past. These included Churches in Poolsbrook, Mastin Moor, at Lowgates and the Zion Chapel in the
former Speedwell Terrace, which had closed many years ago in the 1960's. The Methodist Church in Barrow Hill also closed recently.
The Church in the centre of Staveley, is normally busy at the heart of the town with a number of community users. Most of these groups have been unable to meet since March.
The Church had reopened for worship in September, holding services at 10:30am each Sunday and sharing in these services with members of the Inkersall congregation, who had been unable to return to their own temporary building, whilst awaiting the rebuilding of their Church.
Prior to the pandemic, Staveley had held a very busy community coffee morning each Friday, a regular Friday prayer service and Monday Sisterhood meetings. There had been a monthly lunch club. Rainbows had met on Tuesday and there had been a weekly Toddler group, "Staveley Stars," on Monday.
For many years the "Harlequins" Theatre Group have been based at Staveley Methodist Church and have held their very popular, twice yearly shows, in the Church hall, including the Christmas Pantomime. They also rehearse at the Church on Wednesdays. An art group "Painting for Pleasure" has met on Monday afternoons and Slimming World and Weight-watchers have been weekly users of the building, as had a marshal arts club and a foot clinic. Since the easing of lockdown only Slimming World and the foot clinic had been able to return.
An annual organ concert has been held for many years, but was unable to be held last May.
Staveley Methodist Church has many requests for baptism and wedding services and funerals are often held there.
Members and friends have supported Care Homes and their residents, by taking regular services at "The Willows" and "The Staveley Centre." The Church has supported local schools with services and acts of Remembrance and has offered memorial services in partnership with funeral directors. Support has been given to local food banks and community groups.
With the current lockdown, Church services, apart from funerals, are now suspended until at least December.
The Church will continue to support its members and friends at home with service materials and letters, to bring God's Word of encouragement and in pastoral care.