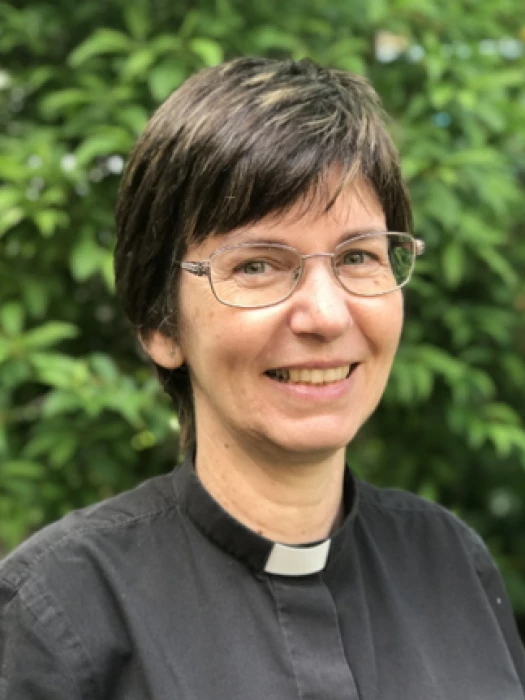 Sarah Colver is the Vicar of Old Brampton and Great Barlow as well as being the Anglican Priest in Charge of Loundsley Green LEP where she shares in the leading of ministry with her Methodist Colleague Revd Tracey Harris.
She moved to live in Holme Hall in November 2020 (i.e. during Lockdown 2) having previously worked in two very different contexts in the Diocese of Sheffield. After ordination as deacon in 2013 (priested 2014) she served as assistant curate in the benefice of Aston-cum-Aughton, Swallownest and Ulley, south of Rotherham; and then moved to central Sheffield in spring 2016 to become the Associate Vicar at St Mark's Broomhill.
Sarah trained for ministry at Westcott House, Cambridge alongside ordinands and theological students from several different denominations. Sarah had a varied work background prior to training which includes working as an Intensive Care Nurse, in retail management and as an infant school EYFS teaching assistant. During the period from 2003-2010 she was Director of Music at Holy Trinity, Millhouses in SW Sheffield and was a licensed lay worship leader: after completing her ordination training she became a tutor for the diocesan lay worship leaders' course.
Sarah is committed to working for greater inclusion of all people within the Church and for equality and justice in all spheres of life. She is passionate about the use of music and creativity to enhance worship and is open to exploring different traditions and worship styles as reflections of the diversity of people's experience of God.
In her spare time Sarah enjoys music- both singing and playing the piano, spending time with family and friends, holidays by the sea, and is looking forward to tackling the challenges of the garden at her new home.