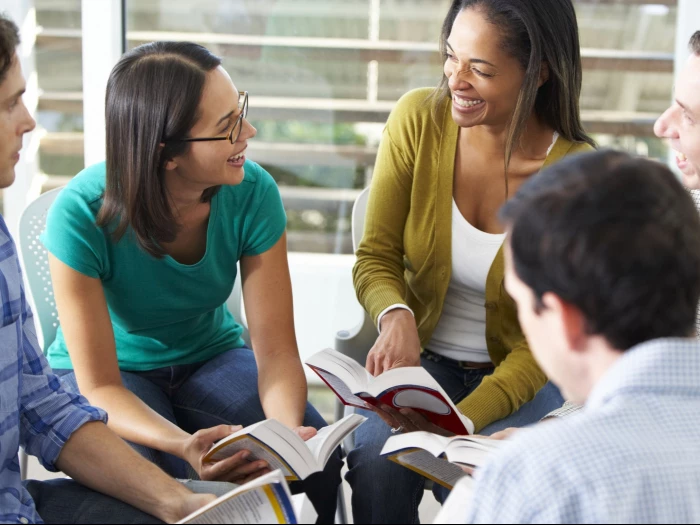 For many, Covid-19 has redefined, or at least called into question, what it might mean to be a 'practising Christian'. With so many of the church's communal activities on hold, Sunday worship is not the only activity to move online during the coronavirus pandemic. Across the Circuit, a number of house groups – small weekday gatherings for prayer and Bible study that normally meet in people's homes – have continued to meet virtually, while further groups have been formed, largely as a response to the restrictions.
One group is hosted by Chris Warren from Central Methodist Church in Chesterfield. Recently, his fortnightly group has been studying the parables of Jesus, using a popular book "Jesus through Middle Eastern Eyes" by the theologian Kenneth E Bailey. Chris comments that this foray into the historical and cultural context of the parables has been a very enjoyable and edifying journey and recommends the study of a theme or strand of scripture as a fruitful and complementary alternative to the sequential reading of the Bible.
This, though, is exactly what Revd Sean Adair is doing with his study of the book of Acts, a narrative which makes a lot of sense if it is tackled from beginning to end. Taking a chapter at a time, this group has been following the story of the early church and the missionary journeys of Paul which set in motion the spread of Christianity throughout the Roman world. An informal talk covering the chapter in question goes out live on Facebook each week, as well as for participants on Zoom. Afterwards there is time to discuss, reflect and ask questions.
As it happens, Will Nightingale's group is also studying Acts and he also makes time to pose a recurring question: "Where have you seen God in the past week?" This may have become a fashionable question among local Methodists recently, but perhaps also a good one. Will characterises his group as providing an opportunity for those who may already be 'mature' Christians to grow and develop in their faith, but also it is a place for those with little or no background in faith to learn more. And that must surely be a feature common to just about any Bible study group.
Meanwhile a group originating at Bolsover Methodist Church operates by setting a little homework before the meeting. Bible passages are circulated on Monday mornings together with questions ready for discussion over Zoom or WhatsApp later in the week. Angela Woodhead, one of the group's members explains that the group has been going for five years and its activities have in the past extended to include outings and social evenings. They are looking forward to a Chinese takeaway when restrictions allow, she says.
The small groups mentioned here are not an exhaustive list, but they do illustrate that besides Sunday worship, there is a need and a desire for smaller, more intimate, and often informal opportunities to discuss and share faith, to study the Bible and – most importantly – to consider the relationship between faith and everyday life. Whilst some groups are led by ministers, others are simply spontaneous groupings of Christians and perhaps also those who would consider themselves non-committal, coming together for something more than just social contact, although that is important, especially when the whole of society is suffering from lockdown.
If anything, the pandemic has driven to a heightened degree the need to connect, to support, and to share. Many Methodist Churches sustain a culture of small groups, which has its origins in the class meetings that go back to the founding principles of John Wesley. He would perhaps have approved had he known that 250 years into the future, Christians would in a time of great difficulty still meet like this, but online.
Details of Methodist groups currently meeting online are on the Study and Learn page.